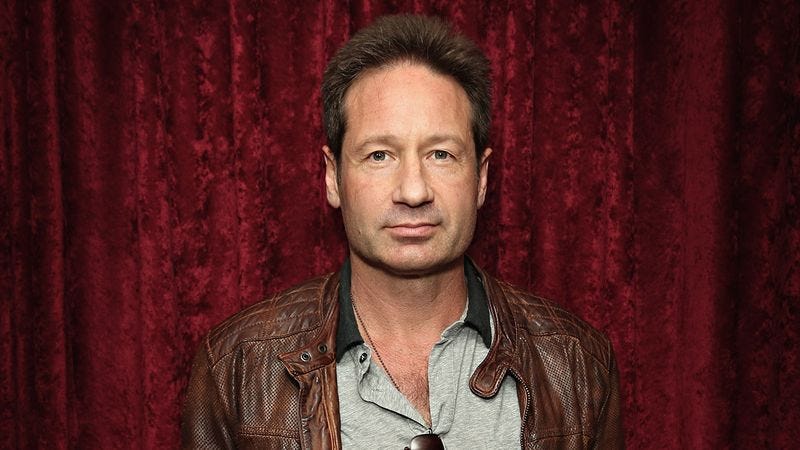 No matter how much or how little you know about the United Kingdom voting to leave the European Union, you probably have an opinion on it. Instead of posting it on Facebook or cornering your coworkers with it, why not say it right to this picture of David Duchovny listening intently?
David Duchovny's thoughtful, attentive gaze is here for you no matter what your take on Brexit is. Maybe your thoughts are as simple as "I think this is bad" or "This shouldn't have happened." And that's totally okay! Just speak those lines directly into David's unflinching almond-brown eyes.
Should David Cameron have been forced to resign? Was he forced to resign? It doesn't matter whether or not you know for sure. David Duchovny wants to hear your opinion on it even if you're hazy on some of the finer details.
If you're still having trouble getting started, try one of these introductions to get the ball rolling: "Clearly, the lesson Americans need to take from Brexit is…," or "It's shocking to me that nobody is talking about…." Unloading on this picture of David Duchovny is just as good as a 2,000-word Facebook post about the post–E.U. British economy that you barely researched.
There's no wrong way to speculate here. Be as measured or apocalyptic as you'd like in your discourse—this is your time to let it all out, right here on this list. David is listening, and he won't judge your opinions.
If you need a half hour to skim a few Guardian op-eds and come up with a pop culture–inspired metaphor for the whole deal, go right ahead. David will be here when you get back.
Okay, so hopefully you're wrapping up your analysis of Brexit at this point, but do feel free to stay on this picture of David Duchovny for as long as you need. Make sure you get it all out here so you don't find yourself explaining to a coworker later today how an E.U. without England will only embolden Putin's Russia. A coworker can never give you the comforting support that this picture of David Duchovny can.
Wow! Well done! You're part of the Brexit conversation! And it looks like David agrees!