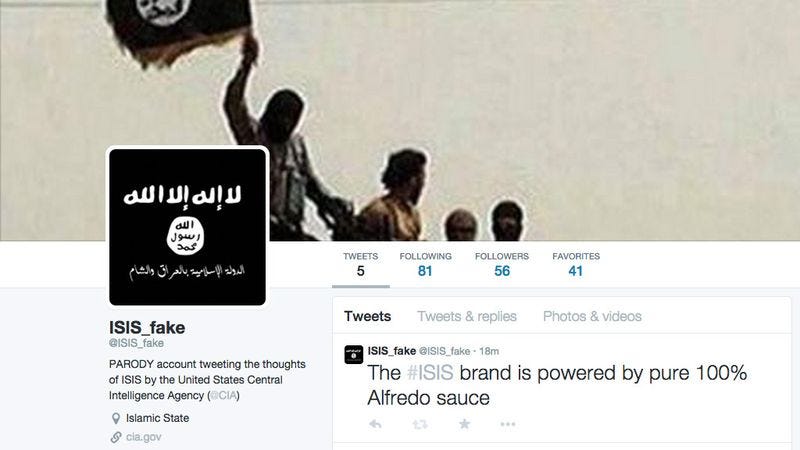 Despite President Obama's recent call for military action against the terrorist organization that calls itself the Islamic State, it continues to spread its campaign of fear and brutality relatively unchallenged. In response, the Central Intelligence Agency decided to combat ISIS by setting up a biting and brutal ISIS parody account on Twitter in an attempt to stop the extremist group's reign of terror dead in its tracks.

The parody account, called @ISIS_fake, was chosen after CIA officials tried to register the @fake_ISIS user name and learned that it was already taken. The CIA considers the ISIS parody account to be one of the most potent weapons in its counterterrorist arsenal.
Here's a look at just one of the CIA's latest tweets:
"The Islamic State is an organization powered by ideology, so to defeat them we must undermine and subvert that ideology," said CIA director John Brennan, who described Twitter as "the new battleground" for the war on terror. "@ISIS_fake is a counterterrorism operation that seeks to dismantle the entrenched Islamic State militants by gradually wearing away at the violent beliefs that drive their movement."

According to Brennan, the CIA has invested more than $5 million dollars worth of intelligence analytics to craft a voice for its fake ISIS character, which is precisely engineered to inflict maximum damage on the terrorist group's cause. As a result of these efforts, one of the central themes of the account is ISIS' tendency to tweet about its fanatical love of the Travel Channel show Anthony Bourdain: No Reservations.
While these tweets have been moderately successful, the CIA claimed that the tweets that have had the most tangible counterterrorist results are the ones that imply that ISIS has a wild devotion to Alfredo sauce:

Has the @ISIS_fake account been working? Brennan admitted that the results have been rather mixed:

"On the one hand, we've been really happy with the character we've created in @ISIS_fake, and we think it's really going to take the wind out of the Islamic State's sails," Brennan said. "However, we don't quite have the number of followers we wanted, and our posts rarely get retweets, or even favorites, which can be really discouraging."
"Still, the CIA remains committed to the @ISIS_fake initiative, and we will continue to combat the Islamic State through parody and ridicule," Brennan added. "The CIA remains hopeful that at some point in the near future, we will receive a retweet from one or two key verified users in order to turn our parody account into a Twitter sensation. We at the CIA believe that @ISIS_fake is currently the most powerful weapon we have to combat terrorism."