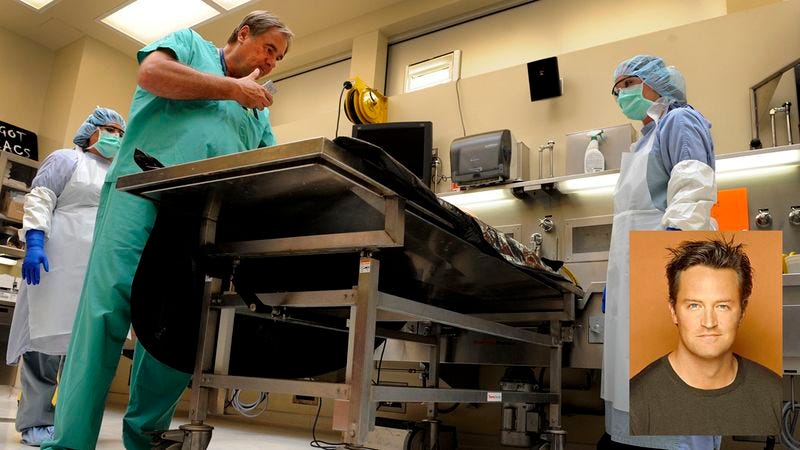 When 18-year-old Alexander Calvin lost his life earlier this month in a car accident in Los Gatos, CA, his friends and family were devastated. Today, those grieving for the teen were offered comfort after a postmortem "Which Friends Character Are You?" quiz revealed that, before he died, Alex was Chandler.
"We ran an extensive 15-question quiz on the deceased," coroner Dr. Richard Eisenberg said. "Our lab analyzed everything: his favorite color, what he considered a perfect first date, even advanced analytic factors such as his celebrity crush and the Harry Potter spell that best described him."
The lab results were conclusive. The data revealed that, prior to the car accident that claimed his life, Alex was sarcastic but loveable, and even though he was often nervous, when the cards were down, he said what needed to be said and followed his heart. In other words, he was a classic Chandler.
The results of the quiz came as a huge relief to Alex's parents. While knowing their son was Chandler won't bring him back, they acknowledged it nevertheless lifted a massive burden from their minds. "It's just nice to have closure," said Alex's father, Steven Calvin. "I always knew my boy liked to joke around, but until we ran the quiz, I never knew if his jokes were goofy like Joey's or caustic and biting like Chandler's."
"Now, we know, and that means so much," Calvin added.
Alex's death is part of a disturbing national trend in teenage deaths. According to Dr. Eisenberg, an increasing number of young Chandlers have been coming his through morgue in recent months. "We get plenty of Phoebes and Joeys, a lot of Rosses, even a Monica here and there, despite how responsible Monicas are, but the overwhelming majority of tragic teenage deaths I deal with are Chandlers," said Dr. Eisenberg.
A memorial service for Alex was held earlier this week, during which his mother delivered a moving eulogy that listed the 26 sure-fire signs her son had been a real California kid.