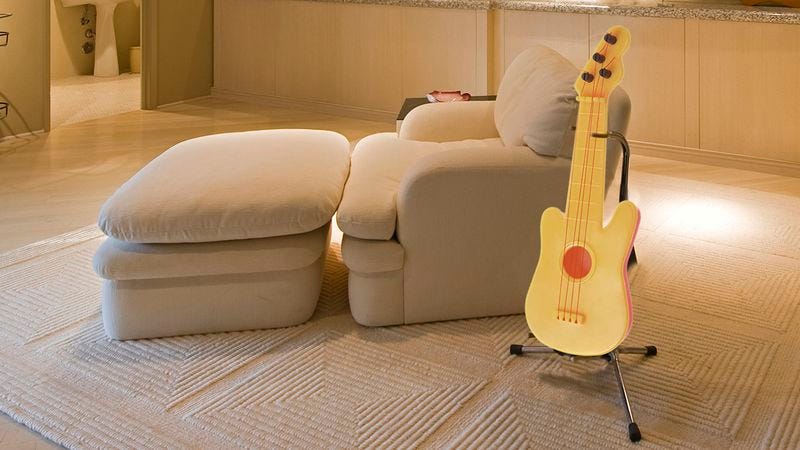 Dallas-area parents Robert and Alice Livingston were absolutely crushed when doctors informed them that their infant son had been born with a rare, possibly fatal heart condition. As the couple worried every night over their sick 3-week-old son, Bradley, the hospital staff began to formulate a plan. Hoping to do something thoughtful for the anxious couple, these doctors were able to use a 3D printer to make the family a new electric guitar!
That's right! The amazing labor and delivery team at Texas Health Presbyterian Hospital came together in the Livingstons' time of need to surprise them with a finely detailed 3D-printed musical instrument.
"The Livingstons weren't eating. They were hardly sleeping. They were so stressed out about their baby boy," said delivery physician Dr. Kenneth Metzger, who oversaw the guitar's 3D printing at every stage of the process. "It was worth 3D-printing such an awesome guitar just to see the looks on their faces. I'm so happy we were able to do this for Robert and Alice."
And the guitar really is extraordinary! The 3D-printed axe has a fretted neck and genuine working tuning knobs. Robert and Alice can rest a little easier now that they have this incredible resin-cast piece of medical craftsmanship!
"Only a few years ago, something like this wouldn't have been possible," Dr. Metzger continued. "It was one of the most ambitious 3D-printing projects we've ever attempted here. But new technologies mean that we are able to give people like the Livingstons some measure of comfort and security."
Inspiring! Hopefully, we'll soon see a day when parents of all sick children will have the opportunity to get a 3D-printed electric guitar!