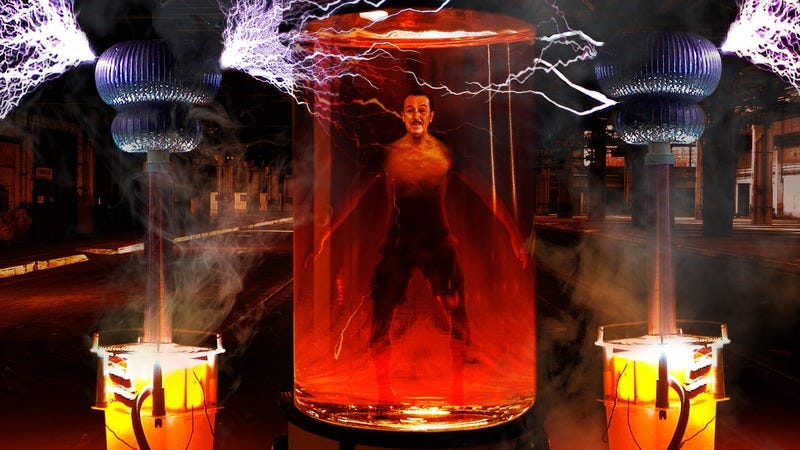 Predicted to hit the southernmost tip of Florida early Sunday morning, deadly storm front Hurricane Irma has already battered the Caribbean with its gale-force winds and Category 5 rainfall. As U.S. coastal residents brace for the worst-case scenario, scientists have found a silver lining: Hurricane Irma could be strong enough to finally power Walt Disney's Lazarus machine!
Wow! It's just as the prophecy foretold!
According to meteorologists at the National Weather Service, Hurricane Irma might be one of the first storms on record with wind speeds capable of activating the Lazarus machine hidden beneath Disney World and reanimating Walt Disney's preserved body. While there's no guarantee, the storm's devastating 185-mph winds could potentially be strong enough to spin the turbines located in the spires of Cinderella Castle, sending powerful blasts of life force into the necro-circuits attached to Disney's head, heart, and limbs.

As the hurricane works its way through the Caribbean Islands, Disney imagineers are reportedly readying themselves to operate the machine's many levers, inject syringes of regeneration elixirs into Walt's chakra points, and pump out water in case Hurricane Irma's torrential rainfall floods the subterranean vivification facility. By noon today, the company had assembled its board of directors to witness the ritual, and they were spotted donning crimson robes and onyx mouse ears while chanting the ancient Aramaic cantos of welcome.
"Soon, the Lazarus Machine's 500-volt electric shocks will awaken Walt Disney within the powerful eye of the storm, and our founder's glorious vision of Tomorrowland will be enacted upon humanity," said Disney CEO Bob Iger in a statement this morning. "Walt Disney dreamt of piercing the shroud between life and death, and knitting flesh and bone together as a weaver works upon a loom, and thanks to the record-breaking winds of Hurricane Irma, that future is imminent."
Yet, even with news reports touting the hurricane's strength, some unwise Floridians still doubt Irma's power. Previous Category 5 storms like Hurricane Andrew were reportedly only able to generate enough lightning to deliver a light shock to Disney and make his legs kick, and apparently, the last time Florida experienced a hurricane this powerful was in 1935, when Walt Disney tested a Lazarus prototype himself and resurrected a goat he had beheaded earlier that day.
When Irma hits, though? That all could change.
As global warming continues to make super-powerful hurricanes like this more frequent, Disney's death-defying machine will accumulate enough power to grant true immortality to Walt Disney so he may reign over the happiest place on Earth for all eternity. Hurricane Irma may be a record-setting storm, but compared to Walt Disney, it is no more than a transient gnat, briefly gusting for a few days before dying in a mere breeze.