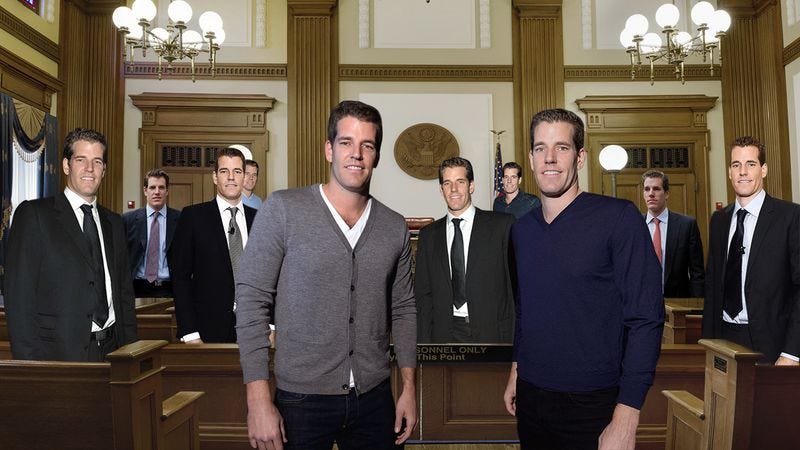 It's been a while since we've heard from the Winklevoss twins. Ever since the brothers reached a legal settlement with Mark Zuckerberg way back in 2008, Cameron and Tyler have stayed largely out of the public eye. But it's time to get excited: The Winklevoss twins are once again suing Facebook, and this time there are even more of them!
Look out, Facebook! We're counting far more Winklevoss twins than ever before, and it looks like the brothers are ready to give Zuck a run for his money.
"Facebook, Inc. may have been able to take on Tyler and me the first go-round, but we're hopeful that the courts will decide in our favor this time," said Cameron Winklevoss, one of at least two dozen pairs of Winklevoss twins. "We've had several years to hone our legal argument, and we remain confident that we'll receive the credit we're owed."
This is the real deal. As more and more Winklevoss twins announce plans to proceed with legal action, Facebook had better look out! The Olympic rowers and internet entrepreneurs really mean business, and it seems safe to say that we'll be seeing even more Winklevoss twins down the road.
"It's time that we receive fair compensation for our idea," Tyler Winklevoss said Thursday, flanked by his brothers Ethan, Lance, Chris, Brandon, and Jacob. "And I think the judge will decide in our favor."
With the Winklevoss brothers assembling a crack team of counselors and advisors composed entirely of their twin siblings, this is already shaping up to be the courtroom event of the century! Huge throngs of Winklevoss twins are lining up to sue the popular social networking site, and we're pumped to see how this all shakes out.
"Frankly, we don't think Zuckerberg stands a chance," said Hudson and Bradley Winklevoss, who together helm a communications staff made up of several dozen Winklevoss twins. "Our case is airtight."
As hundreds of the brothers now seek redress alongside what we can only hope are hundreds more on the way, the Winklevoss twins look to be unstoppable! Good luck on the lawsuit, guys!