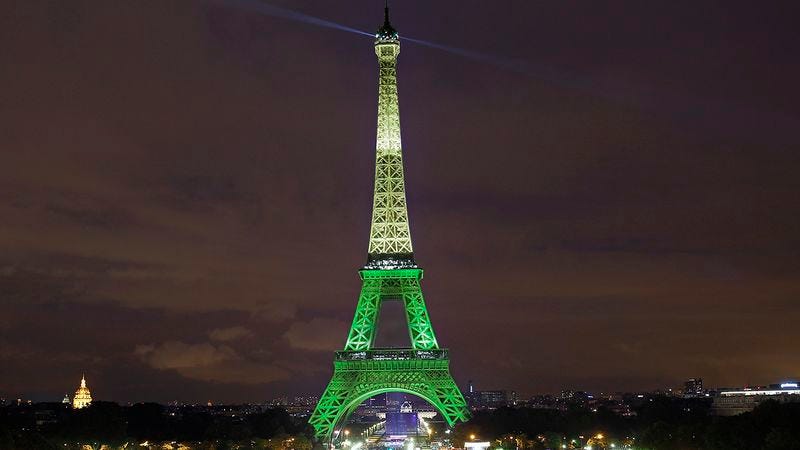 Well, here's the most moving thing you're going to read all day.
The people of Paris just proved that they've got some of the biggest hearts on the planet, and they've done it in the most unforgettable way. Parisian officials have lit the Eiffel Tower green this evening in honor of the hypothetical victims of an eventual tragedy that hasn't happened yet, but will presumably happen some time in the future.
Absolutely incredible.
In an emotional scene, Paris Mayor Anne Hidalgo held a press conference in front of the Eiffel Tower, and bathed in the green light, she expressed her condolences for the future victims of the horrific events that, based on the way the world is, you've got to assume are in the cards at some point for the Irish people.
"We don't yet know what these tragic events will be, but we can only imagine that they are devastating, and our hearts go out to Ireland in advance," Hidalgo said, visibly fighting back tears as she meditated on the upcoming senseless loss of life. "Tonight, the Eiffel Tower shines green in order to show the people of Ireland that France stands with them, whenever this grisly suicide bombing, or maybe an unthinkable mass shooting, happens to occur. At that point, we will all be Irish."
As if that weren't amazing enough, check out this powerful image that a Parisian cartoonist made in order to preempt a gut-wrenchingly tragic attack in Ireland:
Truly beautiful. What Paris has done won't bring back the lives that will presumably be lost at some point in the future, but it does show the people of Ireland that, no matter how ugly and hateful a person or coordinated team of people prove themselves to be, there will always be good, kind people in the world willing to stand with the nation of Ireland when they eventually need it.
Faith in humanity restored!