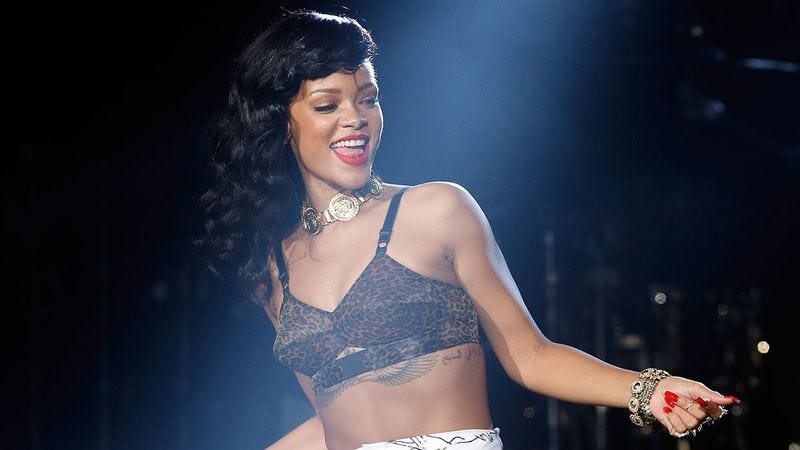 Uh-oh! Get ready for some seriously steamy Rihanna wardrobe malfunctions. You brought the clicks, so we brought the pics. Look below to check out the goods!*
*Editor's Note: According to our attorneys, we are actually legally prohibited from displaying any photos of Rihanna's nudity without her explicit consent. According to our team's research, however, we can offer photos of Rihanna's nipples so long as they are "both isolated from her body and displayed within the context of totally unrelated photos." This is still going to be super hot though, so get excited!
Wow! Looks like there's nothing holding back Rihanna's puppies here! Talk about a major wardrobe malfunction. Again, we know that this would be a lot hotter if the nipples were not arranged in this way, but, legally speaking, we're doing the best we can.
Whoops! Nips at the pyramids! Looks like Rihanna accidentally gave some lucky sightseers two wonders of the world they weren't expecting!

3…2…1…Blast off! Looks like the entire galaxy is checking out Rihanna's nipples. Yeah, fine, it's not as good as seeing them attached to her body, but it's better than nothing, right?

Thar she blows! Looks like Rihanna let the twins slip out into open water!

Talk about some serious stargazing! Due to fair use policy, we are also allowed to show you Rihanna's nipples inside of van Gogh's Starry Night. Actually, we think this one is kind of hot. It sort of works.

Again, we're sorry, but we tried our best here. Interestingly enough, we weren't even allowed to superimpose Rihanna's nipples onto a different pair of breasts, even if they belonged to a statue. Weird, right?

Here's the actual legal document that says we can't show you the nipples in any other way. Oddly enough, it stipulates that we are allowed to put the nipples on the document itself. So, we did that.

Talk about a knockout! This is probably the most erotic image we can legally show you.

Well, those are enough Rihanna nip slips for one day! Until next time, thanks for exploring your naughty side with us!