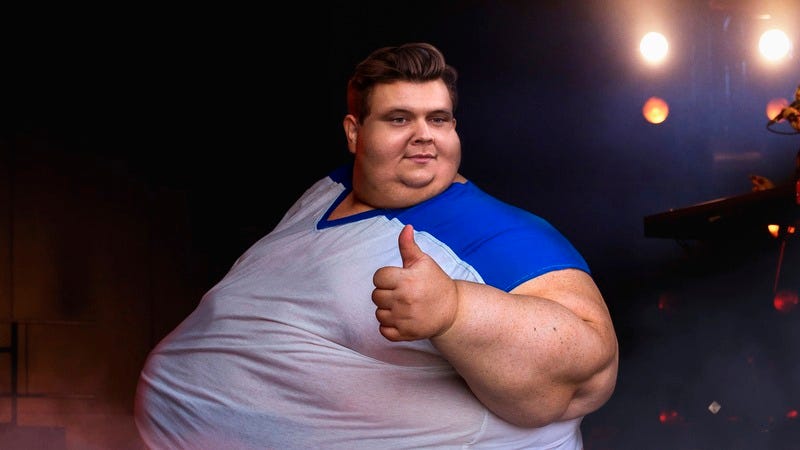 The internet is on fire today after a heartwarming story broke about a pretty special celebrity who hasn't let his ego get in the way of connecting with his fans. Harry Styles recently gained 800 pounds so that fans at his concerts can see him better!
This is an incredibly generous move from one of the nicest people in music!
Harry Styles' fans got the surprise of a lifetime on Wednesday when the golden-voiced heartthrob lumbered out onto the Staples Center stage weighing four times his original body weight, and now fully visible from hundreds of yards away. Concertgoers in all sections of the arena were able to get a clear view of Styles' enormous new body, no matter how far back they were seated! At 800 pounds, Styles is now a hulking behemoth whose incredible mass was simply impossible to miss. Even for the fans sitting all the way up in the nosebleeds, the jumbotron was entirely unnecessary to get a detailed view of this altruistic pop superstar!
Talk about a beautiful way to give back to your fans!

Styles took to Twitter this morning to address his generous new weight gain and to throw his fans some love:
As if becoming one of the most massive people alive wasn't a sweet enough gesture, the 950-pound Styles is also maximizing his visibility by swapping out his trademark dark slim-fit suits for a brightly colored Hawaiian shirt and neon sweatpants. Now it's almost impossible not to see every inch of Styles' heaving body as he shifts his weight from one knee to another, singing hits like "Two Ghosts," "Sign Of The Times," and even deep cuts like "Don't Let Me Go." This is definitive proof that Harry Styles is one pop star who will always go the extra mile for his fans, no matter how famous he gets!

Absolutely amazing. It's always refreshing to hear about a celebrity who will still go out of their way to make sure each and every fan feels like a VIP. Way to go, Harry!